Attorney Profiles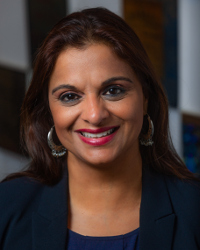 Rekha Sharma-Crawford's fiery advocacy for immigrant's rights and devotion to the rule of law has kept Rekha up all night more times than she can count. Her fearlessness has put Rekha in the local, national and even international spotlight as she's taken on extremely complex and high-profile cases that others have turned away. These cases are complicated further by the state of immigration laws and the court of public opinion. Rekha has an ability to articulate the law and its implications on cases that are anything but cut and dry. She has often turned the tide of misunderstanding and misinformation that plays out in television, print and social media, brought clarity to vague areas, and protected the fundamental right of due process.
"Rekha told me that, 'This is a battle and no one can sit out and hope it all works out.' She tells you this right up front. I didn't understand it until my case took an unexpected turn and she worked well into the night and expected me to get her answers as soon as I could so that she could keep going. I have never seen anyone work that hard for anyone. I owe her my family," states a client of Rekha Sharma-Crawford.
Rekha's victories in courtroom battles have served as the foundation for several articles she has written. She is a respected and published contributor for many legal journals. Her expertise in immigration law is sought out by clients and colleagues in the legal field, from judges and immigration official to lawmakers. Rekha is a frequent instructor at the American Immigration Law Foundation Litigation Institute and speaker at the American Immigration Lawyers' Association national conference. She has also spoken at a variety of seminars about immigration law locally at the Johnson County Bar Association, Kansas Bar Association, and Kansas and Missouri Public Defenders. In 2018, the Kansas Bar Association honored Rekha with the Courageous Attorney Award, an award presented from time to time, to attorneys who have displayed exceptional courage in the face of adversity, thus bringing credit to the legal profession.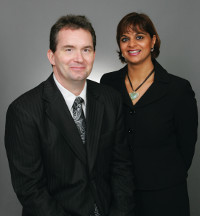 It is not Rekha's nature to sit out and hope for the best. Her personal and professional philosophy to make a meaningful difference in her community and country led to The Clinic at Sharma-Crawford ("The Clinic"), a nonprofit organization. Rekha and her husband, Michael, established The Clinic to close the gap between low-income immigrants facing removal and the availability of qualified, affordable representation with the U.S. Immigration Court. The Missouri Bar Association honored Rekha and Michael its Pro Bono Publico Award in 2017. She received her Juris Doctorate from Michigan State University College of Law in1993 and is licensed in three States.
Email: Rekha@Sharma-Crawford.com
---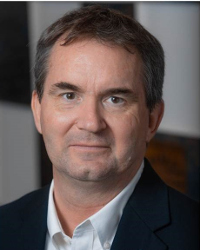 W. Michael Sharma-Crawford is an aggressive litigator and compassionate advocate of fairness in immigration law. As a former law enforcement officer, Michael has a deeper understanding of the challenges of immigration law enforcement, detainment issues and litigation. Michael frequently handles complex immigration proceedings where current statutes require greater experience and understanding.
Michael frequently lectures at the AILA national and mid-year conferences. He has also lectured about immigration law to the  Kansas and Missouri Bar Associations, and Kansas and Missouri Public Defenders.
Michael was one of the attorneys who was counsel on the successful Supreme Court Appeal, Mellouli v. Lynch 135 S. Ct. 1980 (2015). He has successfully argued other cases before the Circuit Courts of Appeal and has handled many successful matters before the Board of Immigration Appeals.
He is admitted to the District Courts of Kansas and Missouri and the Federal Appeals Court for the Second, Seventh, Eighth and Tenth Circuits.  He is also a member of the American Immigration Lawyer's Association, Kansas Bar Association, Missouri Bar Association, Kansas City Metropolitan Bar Association and Johnson County Bar Association. Michael serves as ICE Liasion for the local AILA Chapter. His former service includes the Board of Directors for Kansas Legal Services, the Kansas City Metropolitan Bar Foundation, the Advisory Committee for the ABA Commission on Immigration and as a member of the USCIS Field Operations Liaison Committee for AILA.
Email: Michael@Sharma-Crawford.com
---